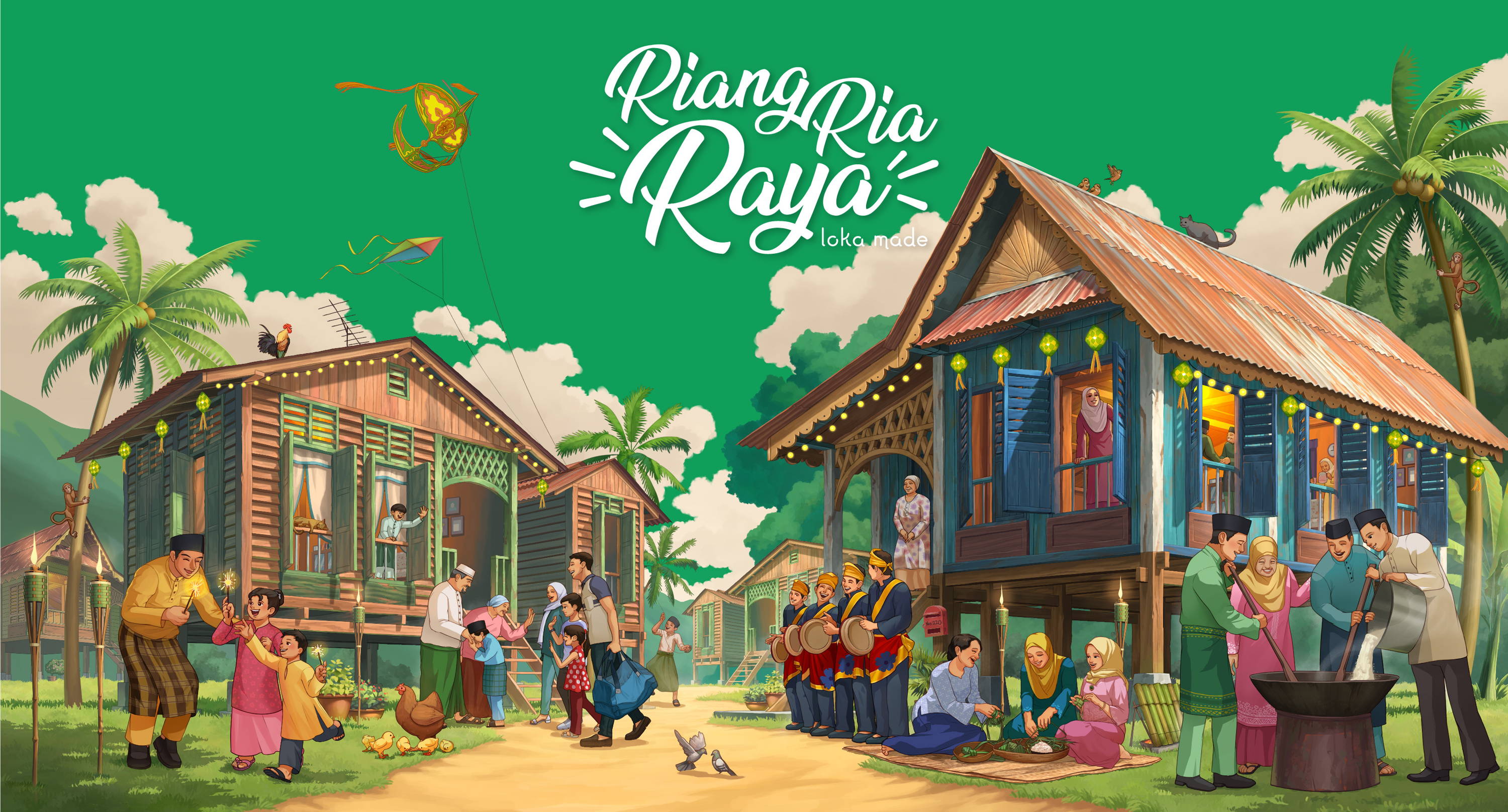 For Hari Raya 2023, Loka Made brings to life the celebratory times of Hari Raya in the heart of Kampung through an illustration entitled 'Riang Ria Raya'. At its core, this beautiful place captures the essence of family togetherness, reflecting the cherished traditions and joyous times we share with our loved ones during the festive season.
As we gradually move past the pandemic era where state-to-state travel was limited, Malaysians can finally rejoice as balik kampung is once again on the agenda to celebrate Hari Raya Aidilfitri. Come and relive the most nostalgic and cherished Hari Raya traditions that Malaysians hold dear.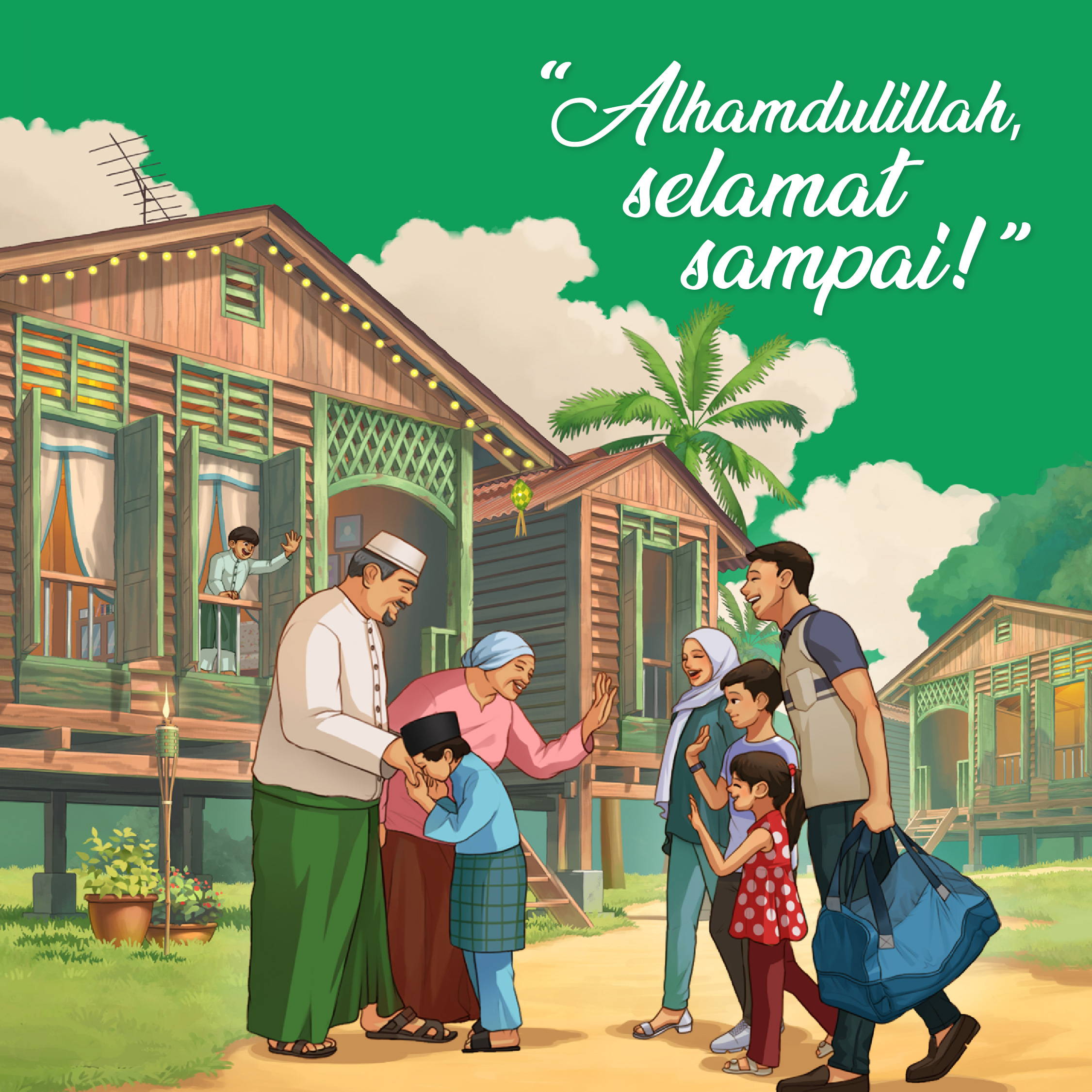 Balik Kampung, Hati Girang
Hari Raya Aidilfitri, also known as Eid al-Fitr, falls on the first day of Syawal, the tenth month of the Hijrah (Islamic) calendar. Muslims in Malaysia joyously celebrate this occasion following the holy month of fasting during Ramadan.
Muslims typically celebrate the season with family by driving back to their hometowns to pay respect to their relatives and reconnect through large reunions. It is also a time to seek forgiveness and strengthen bonds among relatives and friends.

One of the many traditions that came within this festival is the giving of "green pocket money" or "duit raya" to children. This is a tradition in which adults give money, usually in green-colored envelopes, to children as a way of wishing them well and celebrating the festival together.
Nyalakan Pelita, Bersedia Beraya
One of the traditional rituals that take place in the cultural celebration of Hari Raya Aidilfitri in Malaysia is the "penyalaan pelita," which means "lighting the oil lamps." This ritual involves lighting small oil lamps and placing them around the house, typically made from clay pots, with a wick made from cotton or other materials. The lighting of pelita will reach its height on the 27th night of Ramadan, called the Tujuh Likur night. 'Likur' means a figure between 20 and 30, hence tujuh likur means twenty-seven.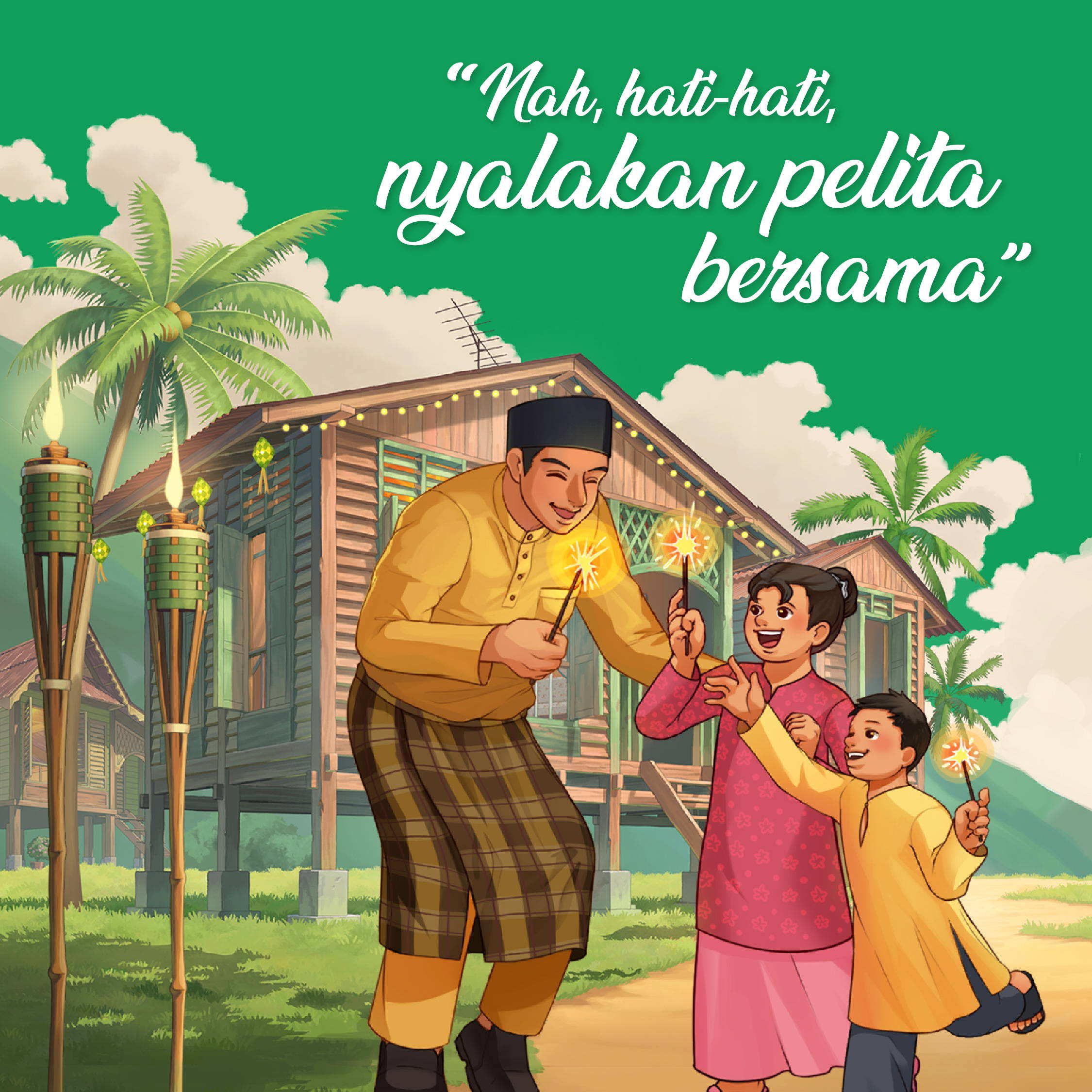 Back in the days when Islam was introduced to the Malays, pelita were lit to attract spirits and angels to visit people's homes and bring blessings during the night of Lailatulqadar. Nowadays, pelita are only lit for decorative purposes.
In addition to the festivities, many people choose to wear their traditional Malay outfits to celebrate the occasion.
Baju Kurung, worn by women, consists of a long, loose-fitting tunic top and a matching skirt, often complemented by intricate designs and embellishments. It is seen as a source of cultural pride for its comfort and modest style of dress, making it perfect for the festive season.
On the other hand, men typically wear traditional clothing known as Baju Melayu. It consists of a long-sleeved shirt, paired with a Sarong made from lightweight cotton or silk, and is supported by Samping, a fabric wrapped around the waist. This attire is often paired with a songkok, a type of hat, and a pair of sandals to reflect the cultural heritage of the wearer.
Rencah Dan Rempah, Ikut Je Selera
No Hari Raya would be complete without all the delicious cuisine shared in the 'open houses' held almost in every residence. From buka puasa during Ramadan to the fabulous feast of Hari Raya, the act of cooking and sharing food brings people together. The men light up the charcoal in the outdoor stoves, while the women begin boiling the ketupat and preparing lemang, as well as other ingredients for the delicious feast. The whole family gathers and chats with each other while participating in the lengthy yet rewarding cooking process.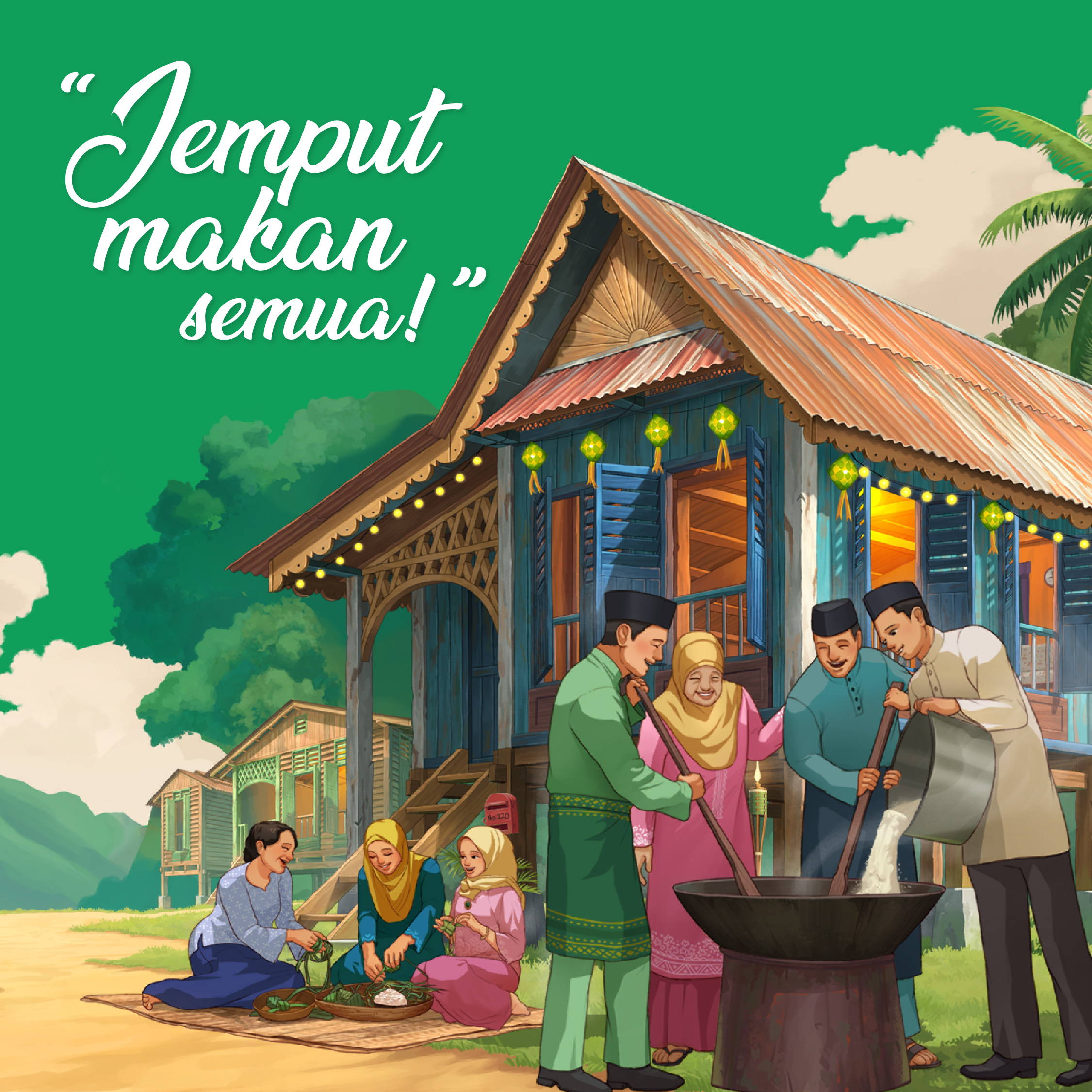 During Hari Raya, Muslims typically invite their family and friends, including non-Muslims, to join them in a feast of traditional Malay delicacies. These delicacies include ketupat (diamond-shaped rice dumplings wrapped in woven palm leaves), lemang (cylinder-shaped glutinous rice cooked in bamboo), lontong (rice cakes served with coconut-based soup and vegetables), and rendang (a spicy meat dish made with a blend of aromatic herbs and spices).
One of the highlights of this festive occasion is the variety of kuih raya, or traditional Malay desserts that shared among family and friends. These sweet treats are usually home-baked and come in a variety of colorful and beautifully decorated shapes and sizes.
Among these sweet treats is the popular dodol, a sticky and chewy dessert made with coconut milk and palm sugar. Muslims will spend hours cooking and stirring the mixture over low heat, ensuring that the dodol has the perfect texture and flavor.
Other examples of these desserts include kuih semperit (also known as kuih mawar), kuih batang buruk (also known as kuih keria), kuih cornflakes madu, kek batik, and many others, depending on the region and the recipe.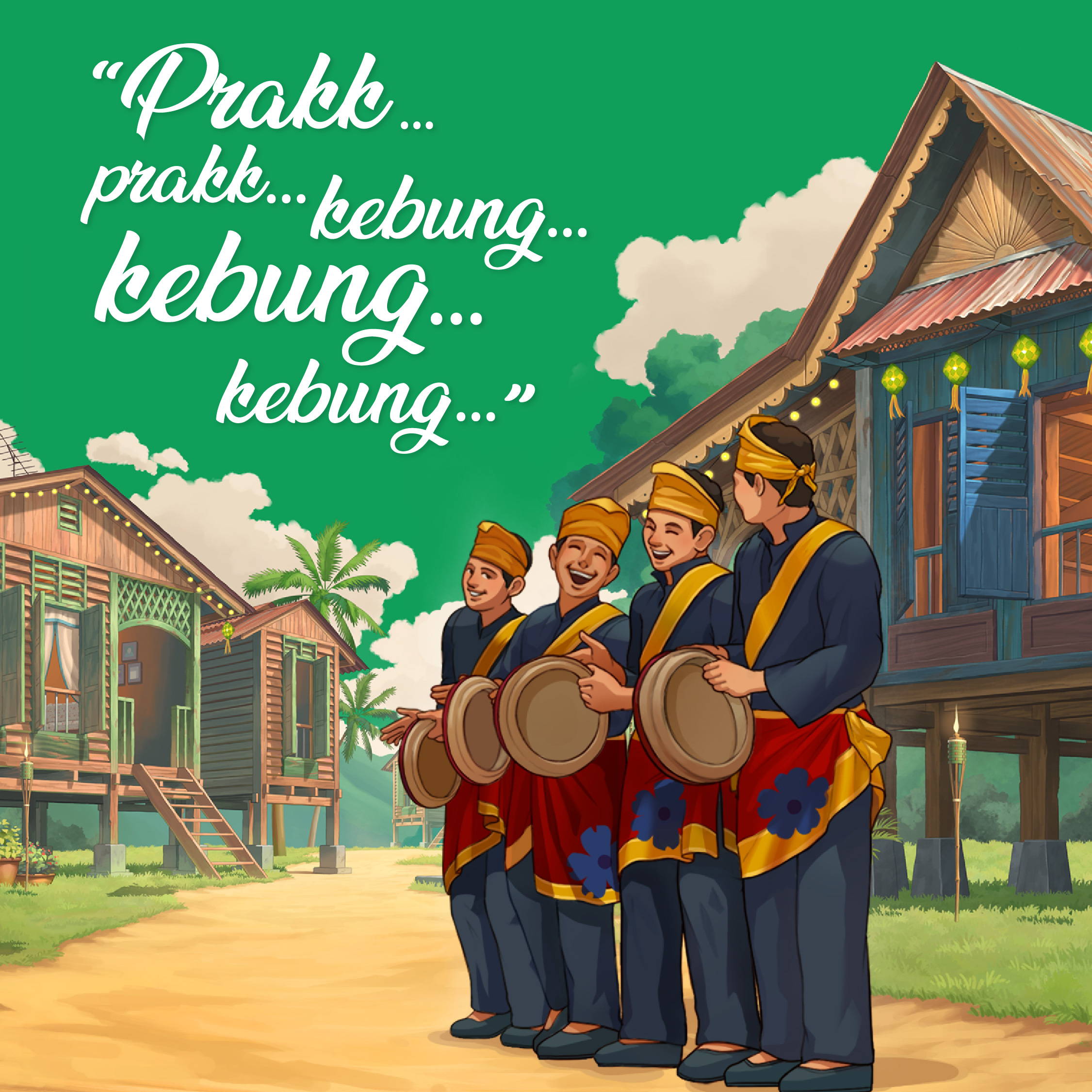 Kompang Dipalu, Alunan Merdu
In traditional kampung communities in Malaysia, kompang, rebana, and gendang are commonly used in Islamic religious ceremonies and celebrations. These instruments are often played in ensembles or bands and are used to accompany singing and dancing, bringing a lively atmosphere.
During the festive season, these celebration musics are often performed together with several traditional Malay dances such as Tarian Zapin, which is performed by men and is characterized by fast-paced and energetic movements. Tarian Joget is performed by couples as it is met with smooth and fluid movements. Tarian Inang is danced by women as it is graceful and elegant, among many others. These traditional dances are common in Hari Raya Aidilfitri celebrations and are an integral part of the festive heritage.

Cahaya Ramadhan berlalu pergi,
Menyambut tibanya Aidilfitri,
Ampun maaf segala peri,
Semoga Ikatan kekal dihati.
Selamat Hari Raya! Maaf Zahir Dan Batin ✨💚