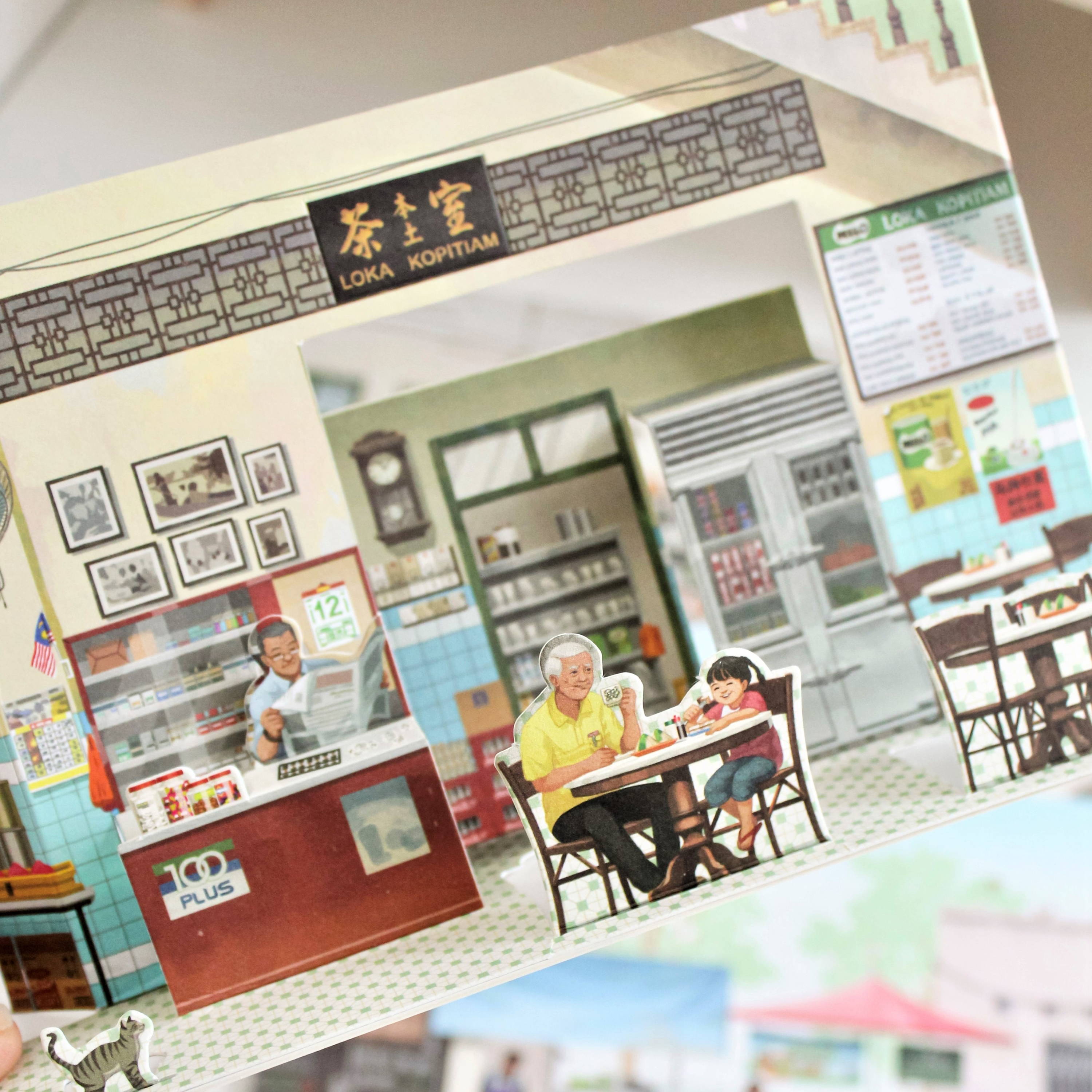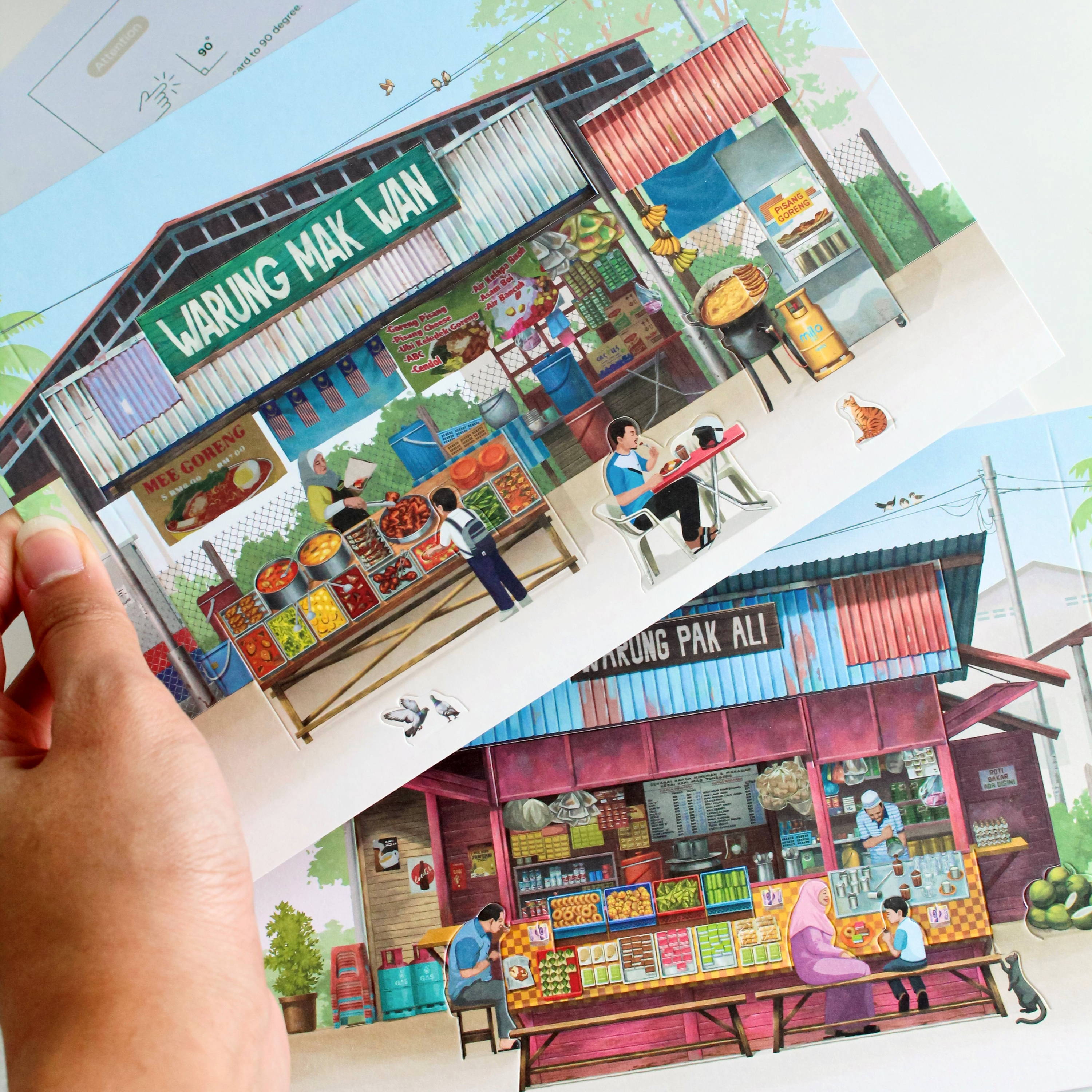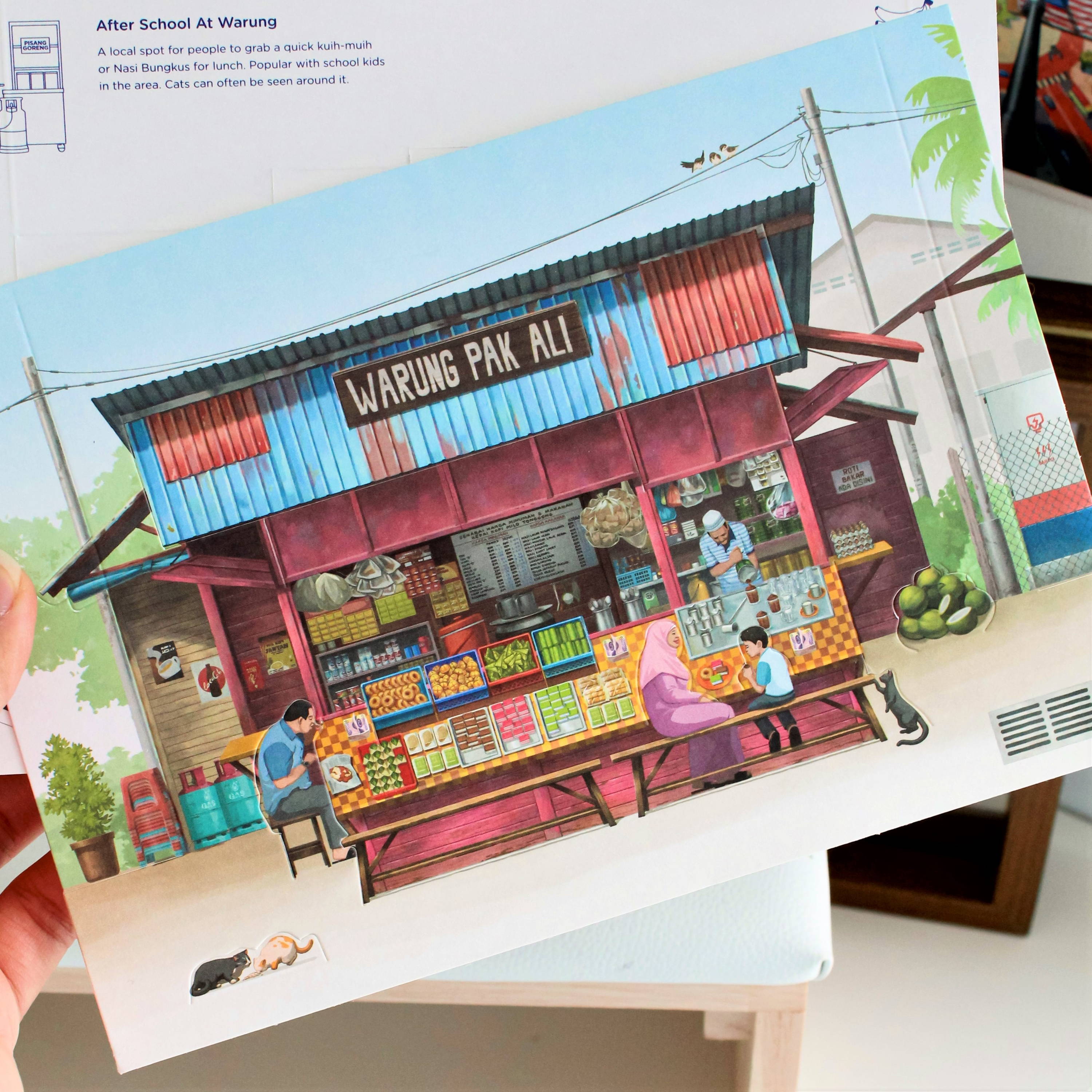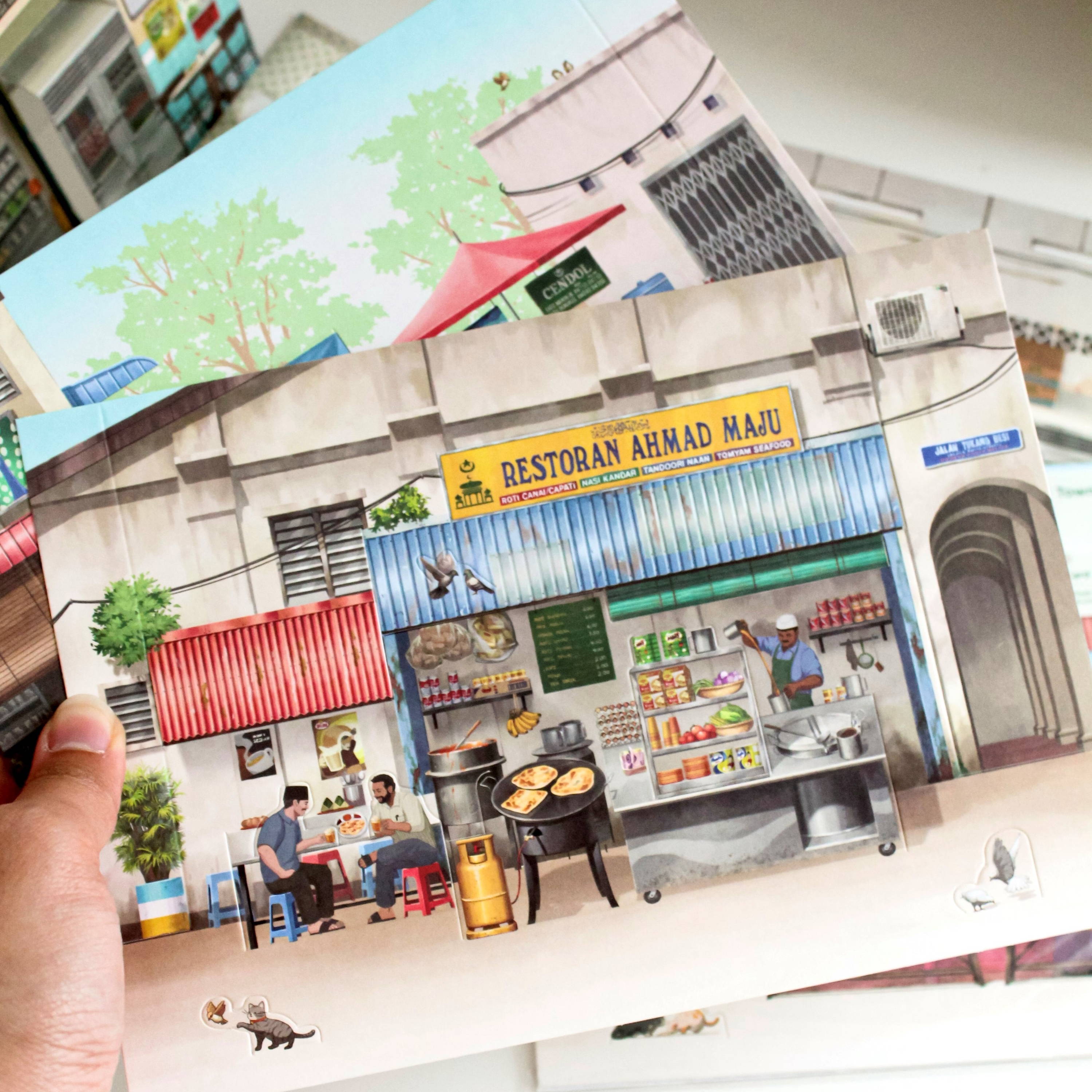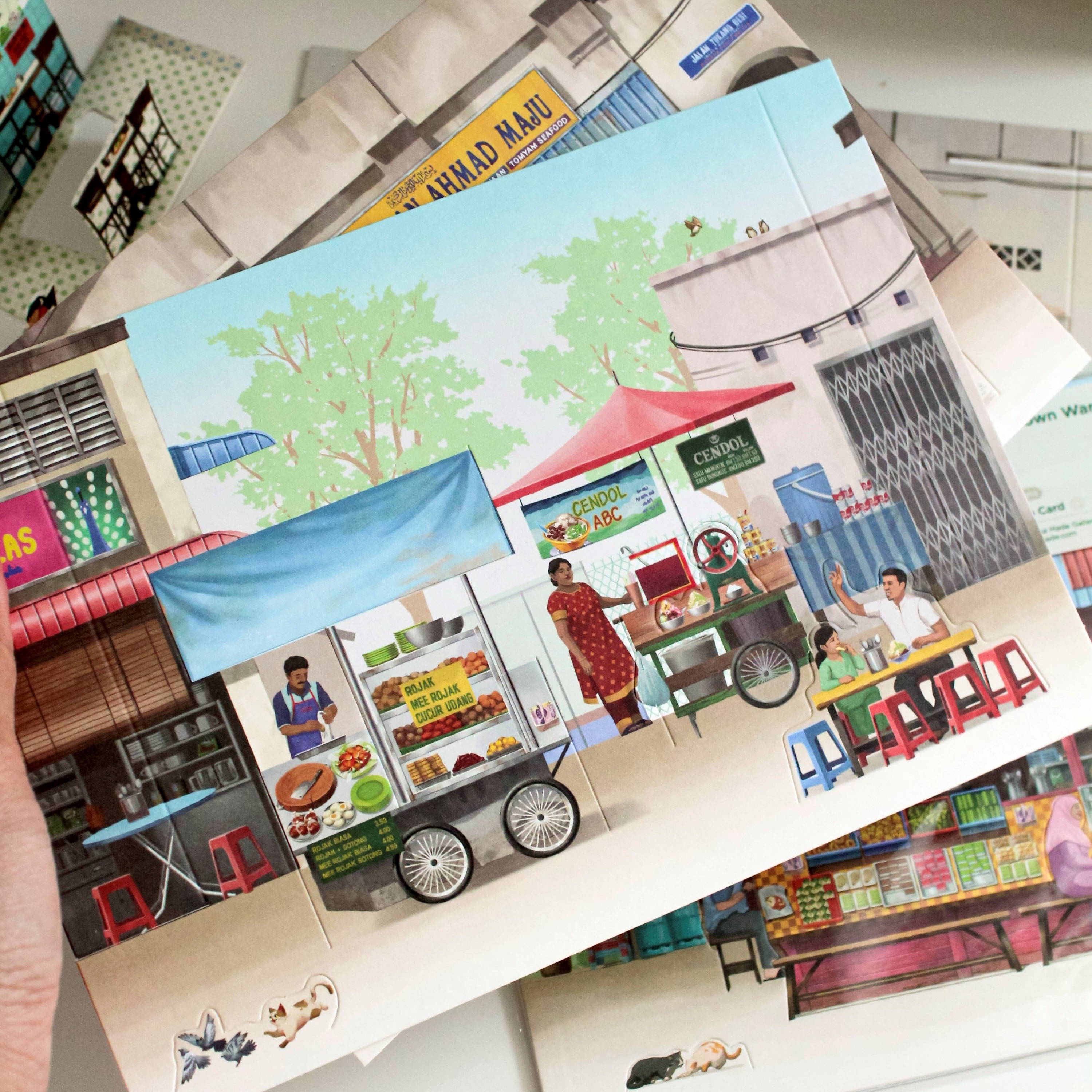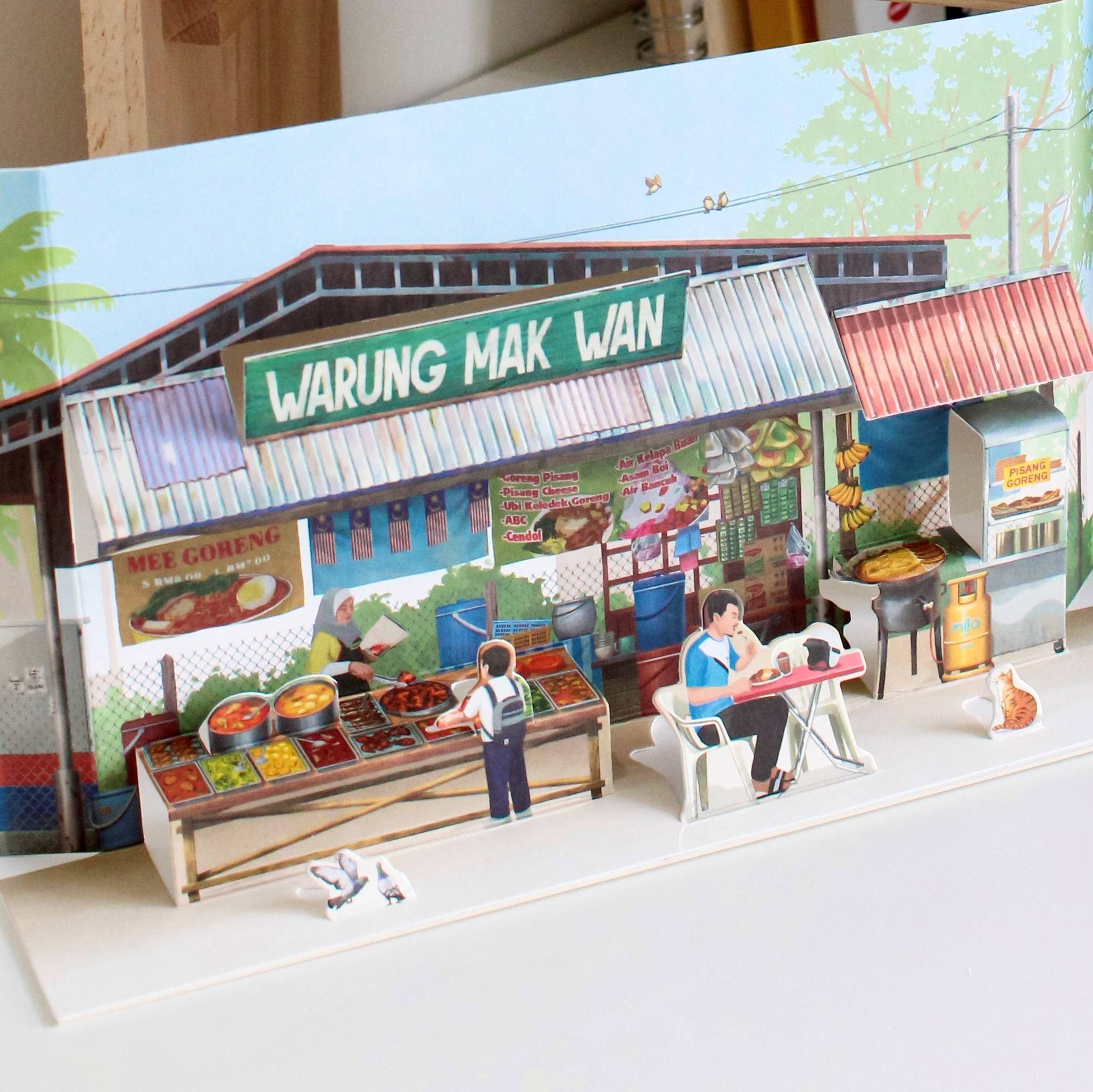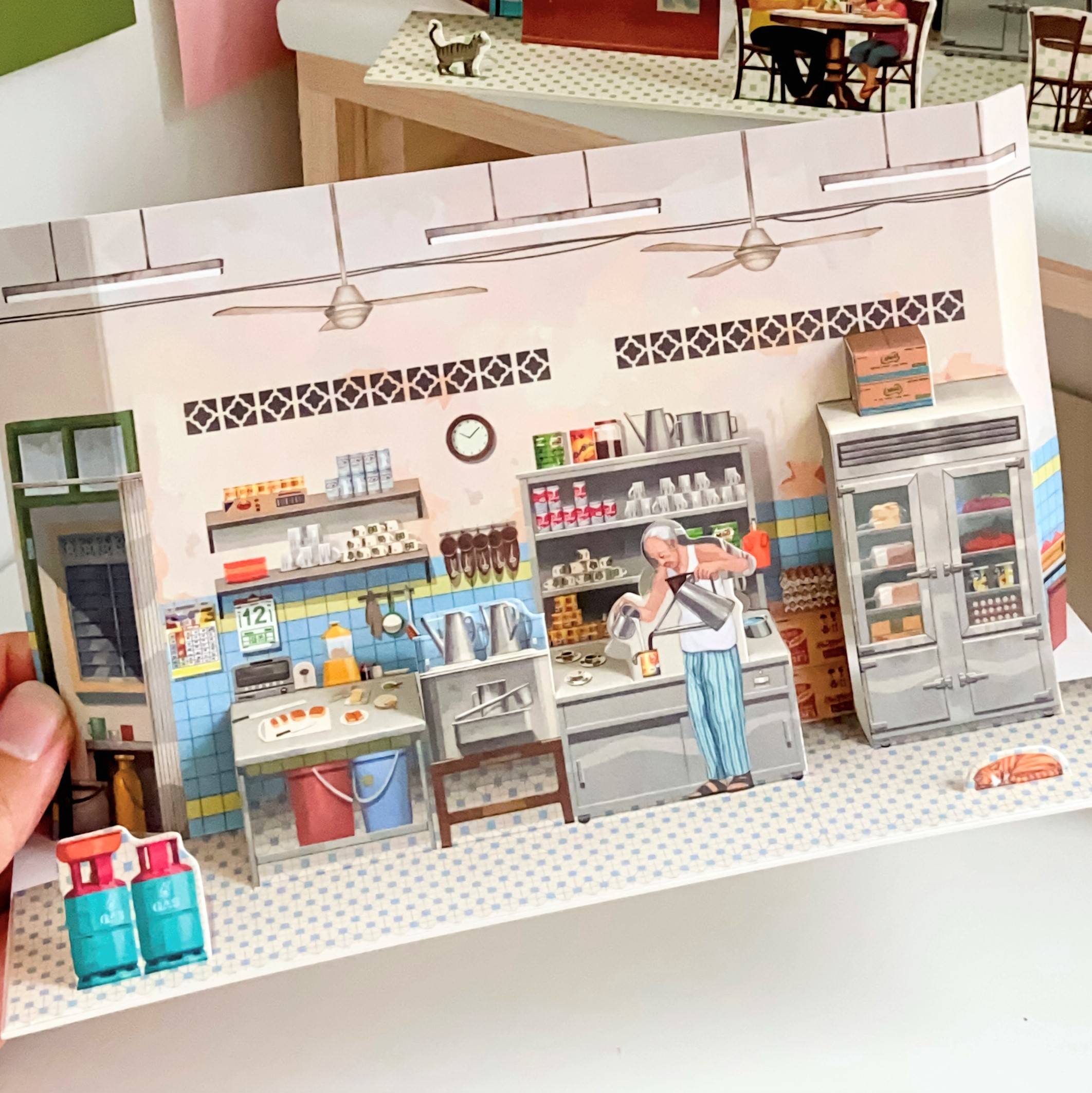 Now Serving: An Order for Diversity from Loka Made
Home is where they remember your (complicated) order by heart ❣️
Kopitiams, warungs and mamaks - the cornerstones of Malaysia's comfort food scene. These unique food establishments can be found nationwide (Singapore, JB and some say Batam! 😛). They each bring a long and colourful history to the table.
Young and old, you'll find many Malaysians and foreigners alike crowding these spots during peak hours. After all, who wouldn't want a flavourful and piping-hot bowl of noodles at such an affordable price? 🤭 In fact, they've been around for so long, most Malaysians share fond memories of growing up alongside these local eateries.
Let's take a closer look at what's on the menu!
Brewing since the late 1800s
Like its name, this is where two cultures are thrown into the mix. Kopitiam is created from a blend of Malay and Hokkien languages. "Kopi" means coffee in Malay and "Tiam" means shop in Hokkien.
In the past, Chinese immigrants from Hainan moved to Malaya in search of work. Many of them ended up becoming chefs and staff at hotels, restaurants, bakeries, and even domestic helpers for wealthy European and Peranakan families. But at the end of World War II, these jobs and housing prices fell.
Many Hainanese people used their savings to purchase properties they turned into kopitiams - some of which still exist today! They cater to the working class people and are recognised by their white marble tables, tiled flooring and signature green floral porcelainware.
Here, you'll find unique eats like kaya toasts served with half-boiled eggs, Hainanese chicken chop or even Hainanese chicken rice.
Let's play a little game 😏 How many of these things have you spotted in a kopitiam before?
1. Kaya toast & half-boiled egg
2. Wooden signboard
3. Milo poster
4. Nasi lemak pack on the table
5. Green floral porcelainware
6. Sepia photos
7. Blue-bladed wall fan
8. 100 Plus sponsored whiteboard menu
9. Coffee sock
10. Yellow stackable tray
11. Condensed milk cans
12. Square-tiled floors
13. Marble table and chairs
14. Grandfather wall clock
15. Abacus
16. Soft drinks in glass bottles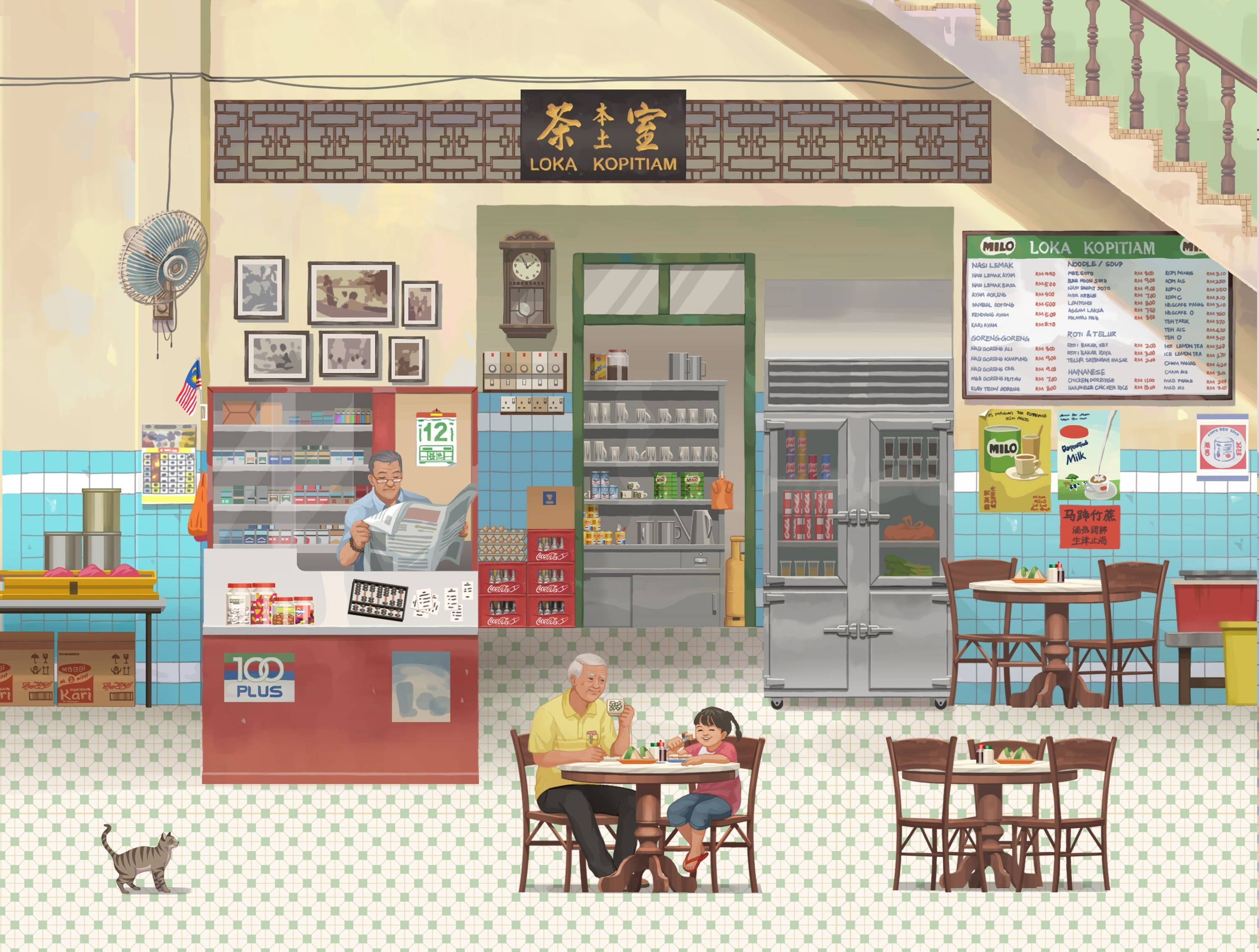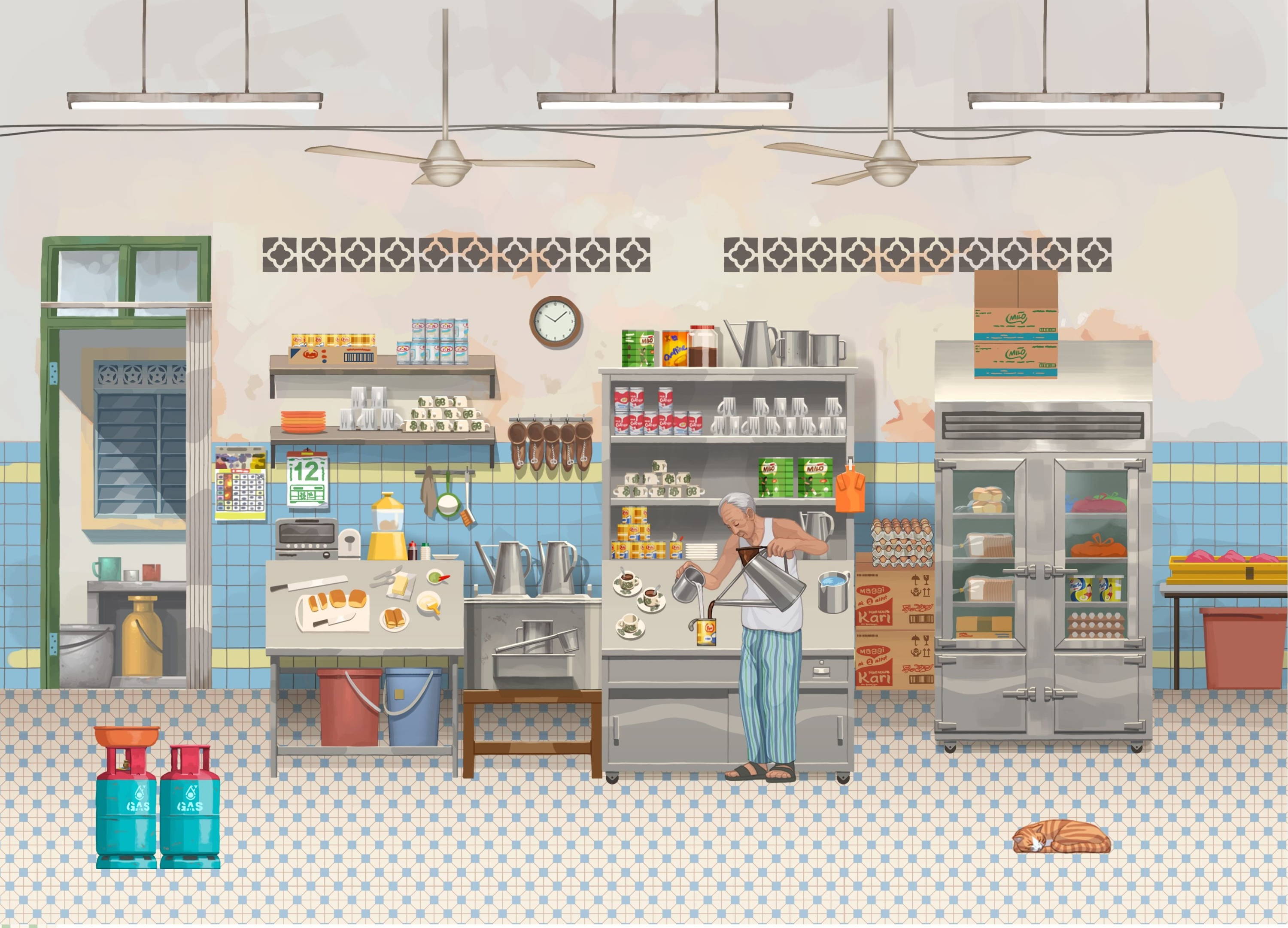 Carrying on the family business
There's nothing quite like a freshly served home-cooked meal, especially one with generational history. Warungs are small family-run roadside shops or stalls that serve food and refreshments to travelling individuals and the nearby neighbourhood.
They provide the community with affordable and convenient food options. In the past, these shops were simple structures made of materials like wood, bamboo and thatch. Customers would sit on simple tables and chairs in an open-air atmosphere.
Back then, they used to serve sweets and coffee. But over time, they evolved and expanded their menu to include more filling meals like nasi goreng, mee goreng, satay or even nasi campur (where customers can select their sides of meat and veggies).
You may even find a variety of local desserts like kueh and refreshing bowls of ais kacang or cendol here. Some even serve Malaysia's beloved fried finger foods like pisang goreng, ubi keledek goreng, keropok lekor and more.
Let's see how many of these things you recognise 😁
1. Plastic teko air
2. Nasi lemak packets

3. Kopi jantan posters
4. Stackable chairs in the corner
5. Plastic foldable table
6. Assortment of kueh
7. Packets of prawn/fish crackers
8. Red covered pails
9. Variety of side dishes
10. Senduk air panas
11. Checkered or striped tablecloth
12. Orange plates
13. Zinc roofing
14. Coconuts
15. Evaporated milk cans
16. Packets of tissue paper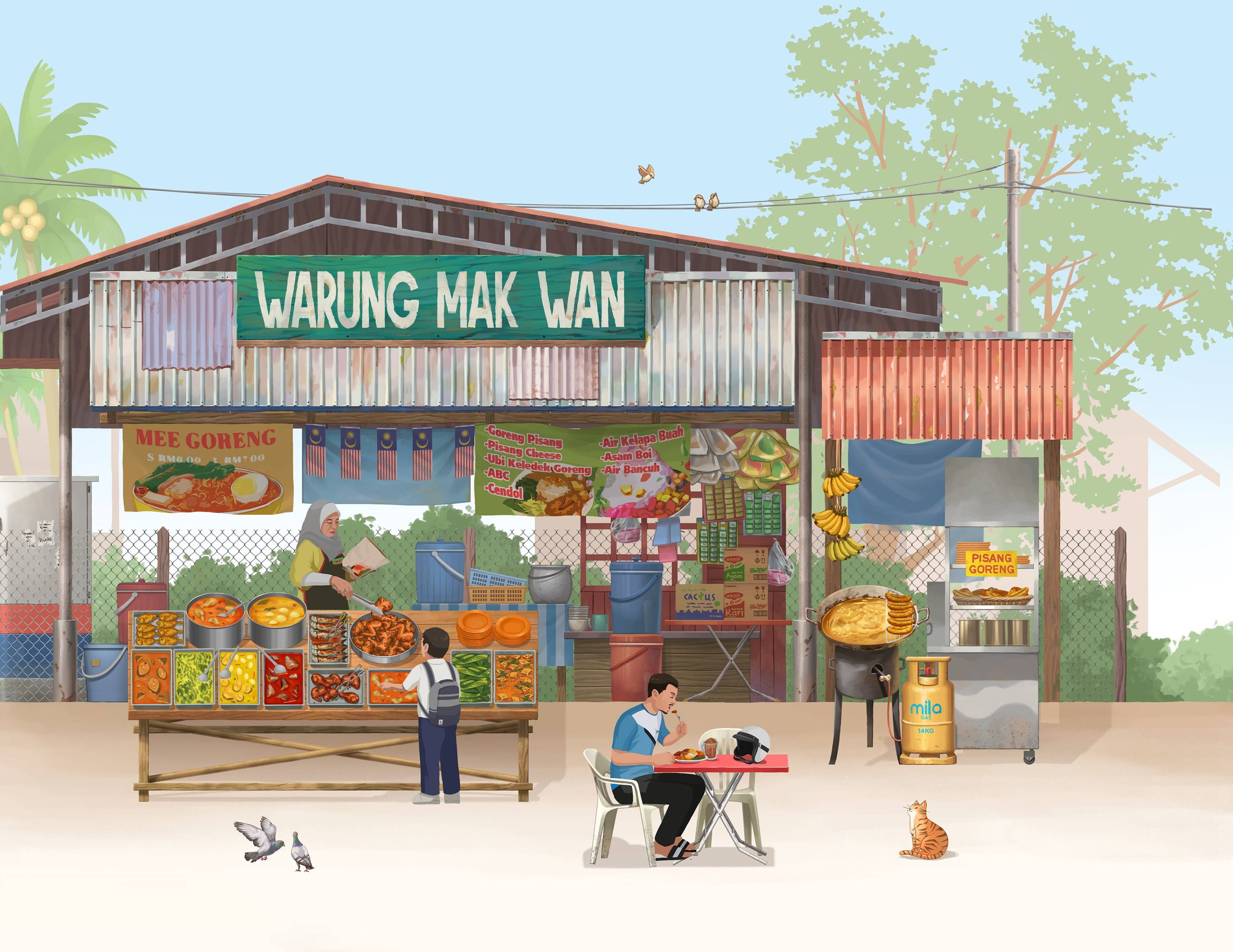 Uniting a nation no matter the season
The gem of generations, the truly Malaysian, the one and only - mamak! Its name comes from the Tamil term "maa-ma", which means maternal uncle. It's a term fondly used by kids to refer to adults like shopkeepers.
In the past, Indian Muslim traders and labourers arrived in Malaya to work in rubber plantations and various other industries. They then set up food stalls and shops to serve traditional Indian dishes to cater to the local population.
In recent times, many mamaks have started offering free WiFi services and have even added large TVs to their premises. Some even stay open until the late hours of the morning, which make them an ideal place to gather and share a meal with friends at night.
You'll find plenty of comforting and nostalgic eats like roti canai, teh tarik, murtabak, thosai, nasi kandar and more here. Better still, you'll find friends and families alike hanging out here until the wee hours of the morning, especially during the Olympic or the Premier League season 😛
Do you remember spotting these? 🧐
1. Metal cups
2. Wooden chopping board
3. Metal chairs and tables
4. Glass food display cases
5. Ais kacang machine
6. Tandoori oven
7. Lightbox (food) signage
8. Sardine cans
9. Plastic balang air
10. Grilling station
11. White tiles with floral patterns
12. Maggi mee packets
13. Wok
14. Babas apron
15. Roti canai
16. Egg trays