Discovering the King of Fruits: All About Durian
Durian (Durio zibethinus Merr.), the king of fruits in Malaysia. Some consider it a delicacy, while others deem it an acquired taste. Its bold scent and flavor are as distinctive as its eye-catching appearance, making it a fruit with a personality of its own. Are you ready to explore the world of durian and discover its many nuances? Take a deep breath, open your mind, and let's dive in!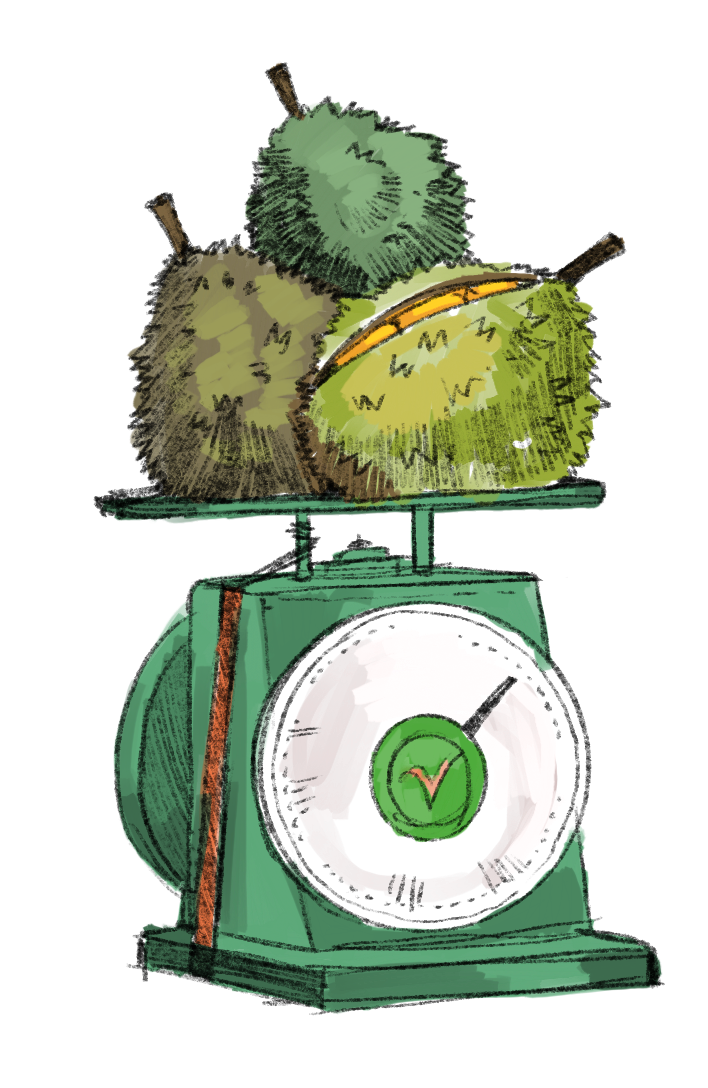 The fruit ranges from 1-5 kg ​​in size and has a large cylindrical stem with a diameter of 1-1.2 cm. It is spherical and 15 to 20 cm (6 to 8 inches) in diameter. It has a hard external husk, or shell, covered with greenish-brown stout spines and contains between four and six oval compartments, each filled with a cream-coloured pulp in which are embedded one to five chestnut-sized seeds. Once opened, it must be eaten quickly because its flesh decomposes rapidly.
Durian has a mild, sweet flavour, and it is also famous for its pungent odor, which has been compared to the smell of Limburger cheese. Durian's custard-like pulp is edible at various stages of ripeness and is a common ingredient in both sweet and savory dishes. The seeds can also be roasted and eaten.
Durian is often referred to as the "King of Fruits" in Southeast Asia and is highly prized for its unique flavor and creamy texture. In some countries, it is even considered a symbol of wealth and status. However, did you know that the smell of durian is so strong that it is banned in many public spaces, including hotels, public transportation, and even airplanes in some countries?
In certain Southeast Asian countries, it is prohibited to open or even carry durian in public places because of its potent odor. Westerners sometimes compare its smell to that of cheese. Despite this, durian remains a popular fruit among those who love it and is often enjoyed fresh or used in a variety of dishes.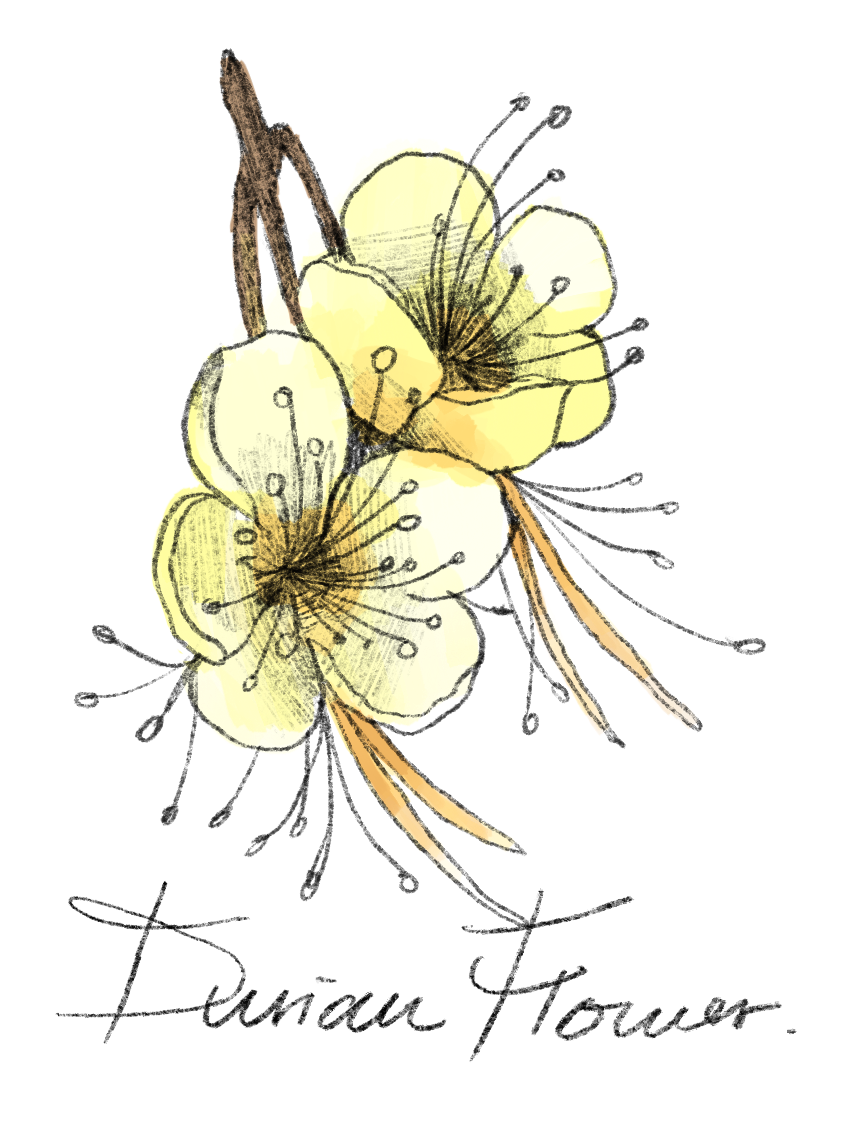 Are all durian the same in each region?
Surprisingly no. There are 29 recognized Durio species and at least 6 of which are edible including D.kutejensis, D.oxleyanus, D.graveolens, D.ducis, D.grandiflorus and D.zibethinus.
While some characteristics of the fruit may be consistent across different types of durian, such as the distinctive odor and custard-like texture, there can be variations in flavor, size, and other traits based on the specific cultivar, growing conditions, and climate factor.
An Introduction to the Multitude of Durian Types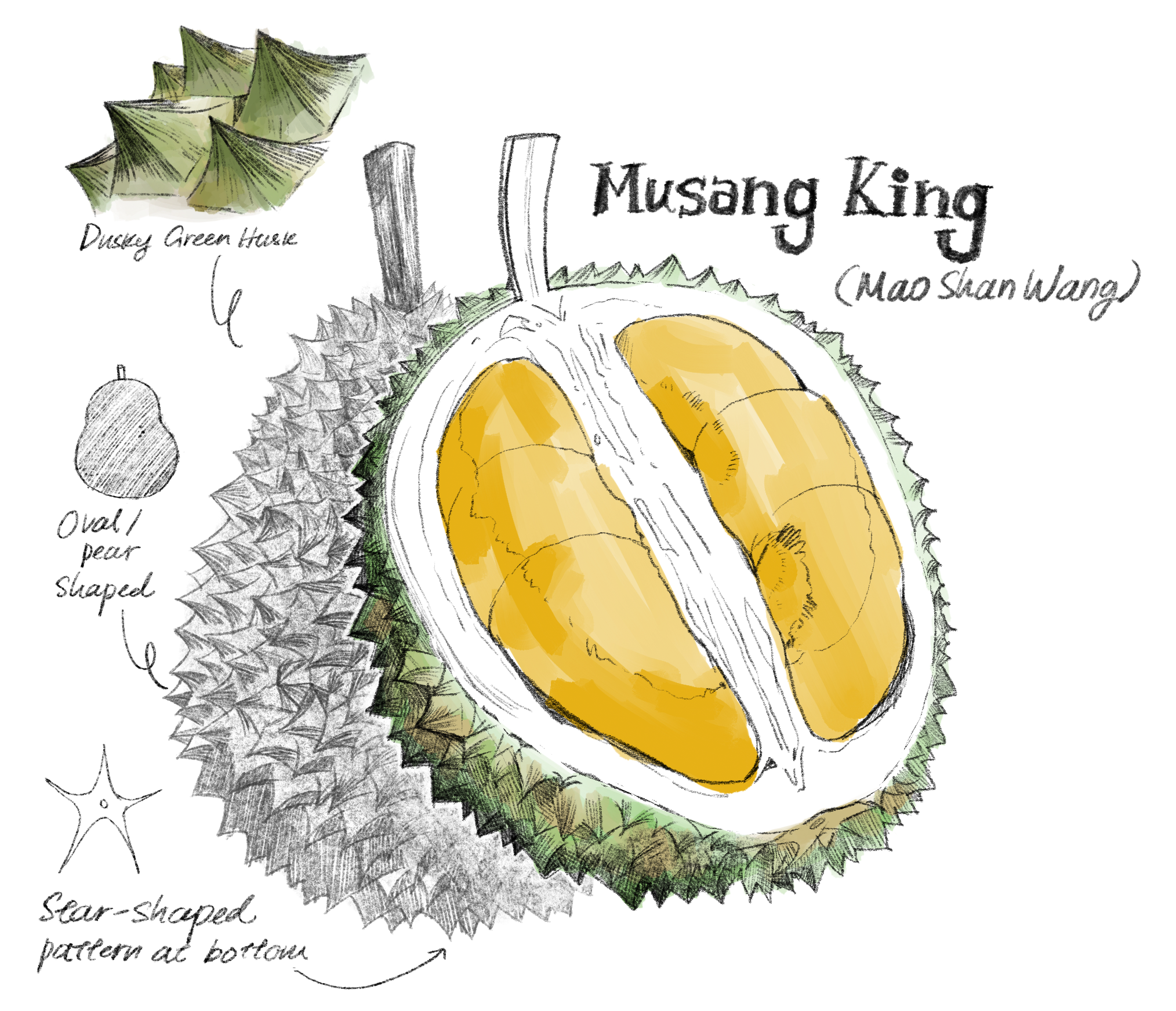 Musang King durian, also known as Mao Shan Wang or Rajah Kunyit, is the most popular and widely demanded durian, sought after both locally and internationally. It has a bittersweet flavor and a rich, custard-like texture.
The A-grade Musang King is round in shape and is considered the king of the kings, making it quite expensive, typically costing around RM 60-80/kg. However, even the B and C grades of the Musang King durian have a rich and creamy texture that surpasses many other durian varieties.
The flesh of the Musang King durian is saturated yellow, similar in color to turmeric. The flavor is mostly sweet with a hint of bitterness, and the texture is dry, thick, and creamy with small seeds. Musang King is primarily grown in Raub, Pahang.
Red Prawn durian, also known as Hong Xia, Ang Hay, or Udang Merah, is named after the shape and colour of its pulps, which resemble cooked prawns. The fruit has an orange flesh color that is slightly pinkish and has a sweet flavor. Its texture is creamy and has a stickier consistency compared to other types of durian, and it typically contains medium-sized seeds.
The pale brown husk of the Red Prawn durian has short, sharp, and sparse spikes, and the fruit is known for being hard to open. Compared to other varieties like D24 and IOI, Red Prawn durians are rarer and more expensive. The fruit is mostly grown in Penang, Johor, and Pahang.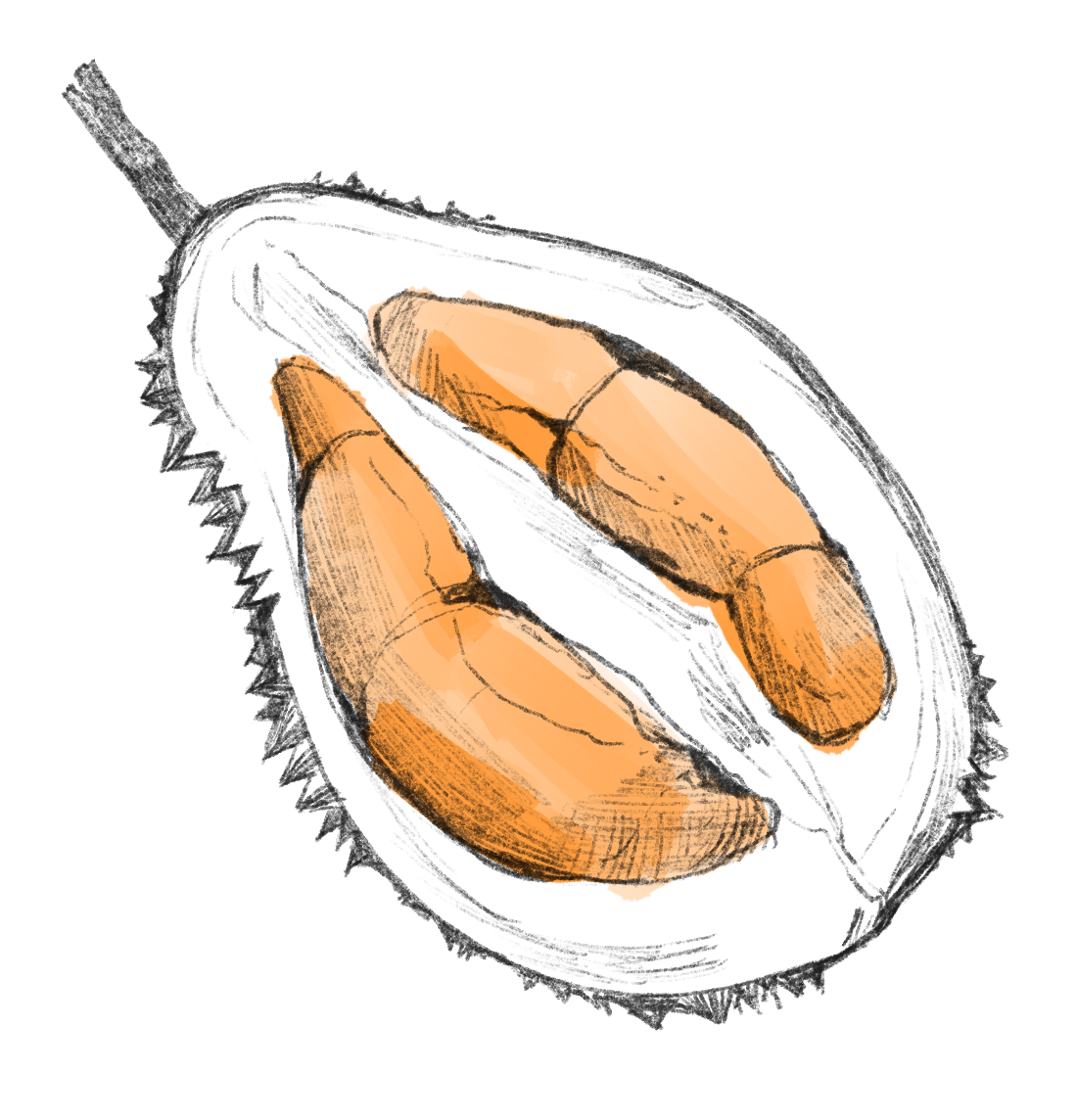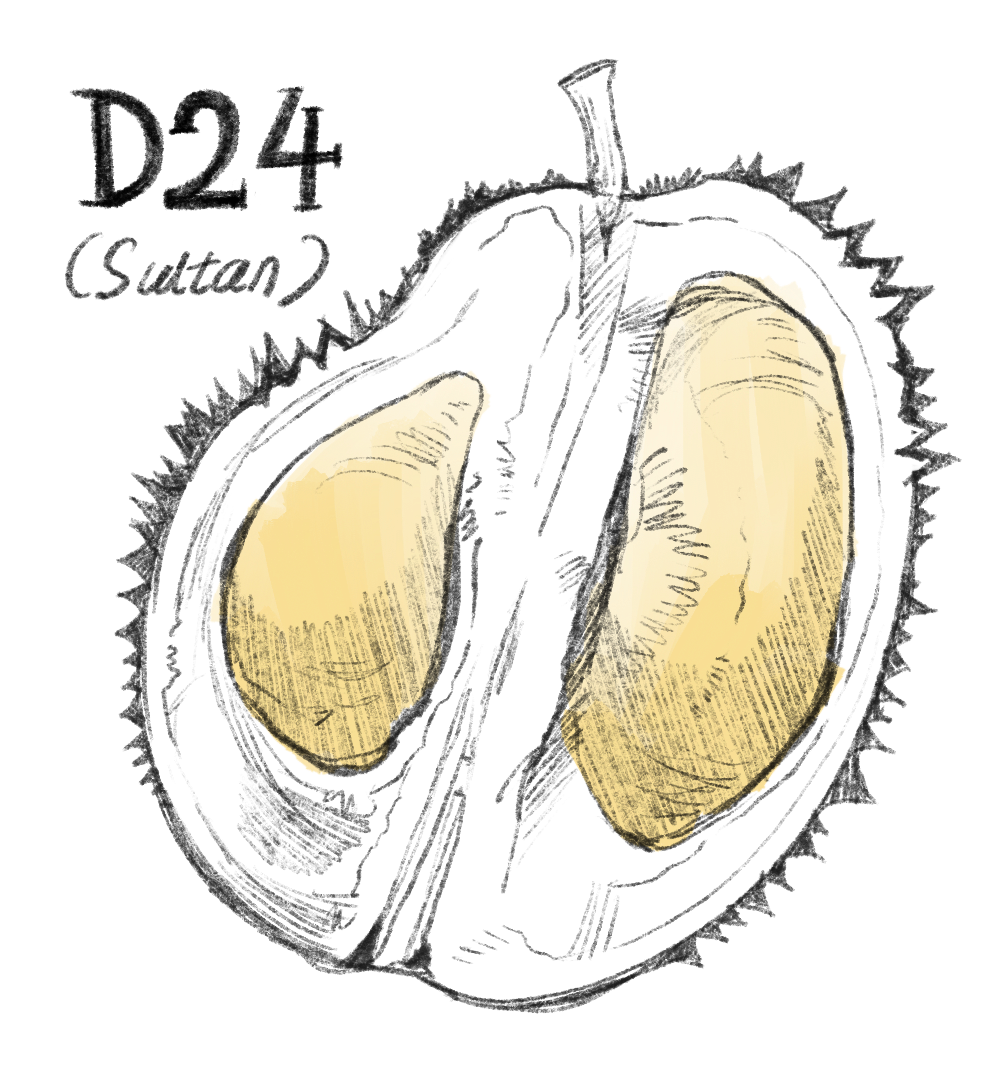 D24 durian, also known as Sultan, is a fairly large fruit (1.5-3 kg) with an elongate-ellipsoid shape and a brown-green rind with small spines. The flesh is creamy sweet, thick, soft, fine, and yellow, but if it's fermented for too long, it can become bitter with a strong alcoholic taste. D24 has an irregular shape and a homogenous green husk with thin spikes that grow packed together.
While D24's taste and texture are slightly inferior to that of Musang King, it is still a popular durian variety. The flesh color is pale yellow, the flavor is slightly bitter, and the texture is soft, thick, and slightly runny with large seeds. D24 is mostly grown in Johor and Pahang, but it originated in Penang.
Durian, the King of Fruits is not just a standout on its own but also a flavor game-changer in Southeast Asian cuisine! With its unique sweet flavor and creamy texture, durian has become a staple ingredient in various dishes, both sweet and savory. Durian is used in a range of desserts including cakes, pastries such as milk crepes, mooncakes, and cream puffs, as well as soft serve ice cream. It's also added to savory dishes such as curries and fried crab.
Durian is also a popular ingredient in smoothies and milkshakes, adding a rich, creamy texture and bold sweetness to each sip. And let's not forget about Durian Cendol, a Southeast Asian dessert that combines durian with green rice flour jelly and coconut milk for a refreshing and sweet treat.

Thanks to its versatile flavor and texture, durian has earned its title as the "King of Fruits." So whether you're a fan of sweet treats or savory dishes, there's a durian-infused recipe out there for you to try.